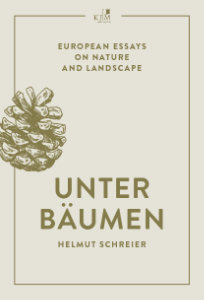 THE FUTURE OF THE FOREST – round table discussion and vernissage
How is the future of the forest shaping up? How can economic efficiency and nature conservation be combined? What is the significance of the forest as a natural and cultural space for our society?
A free evening event will be held at the Hamburg headquarters of the Schutzgemeinschaft Deutscher Wald (Forest Protection Association) (Wälderhaus, excellence project of the IBA Hamburg) on the book "UNTER BÄUMEN" ("UNDER TREES") recently published by our publishing house. Author Helmut Schreier will be joined by other experts (Petra Ludwig-Sidow, Uwe Rada, Reinhard Kahl) for a roundtable discussion and book launch. In addition to current debates about use and conservation, the discussion will also focus on the experience of nature and the book, which is part of the book series EUROPEAN ESSAYS ON NATURE AND LANDSCAPE.
The event will be moderated by Reinhard Kahl from Hamburg, the Schutzgemeinschaft Deutscher Wald and publisher Klaas Jarchow (KJM Buchverlag, Hamburg) will give a welcoming speech. In addition, there will be a vernissage with the artist Rüdiger Tillmann (Hamburg).